Regular price
$7.99 USD
Sale price
$5.99 USD
Unit price
per
Sale
Sold out
COMING ON DECEMBER 19, 2023
Get your pre-order discount of $5.99 now!
When a mystical pool propels free-spirited Yvaine centuries into the past, she finds herself entangled in a forbidden romance that could finally unite the warring medieval clans of Scotland in this magical time-travel romance from USA Today bestselling author Bree Wolf.
Destiny and desire ignite when headstrong Yvaine is ripped from her idyllic island home in the future and thrown into the dark ages of medieval Scotland. She is now the long-lost daughter of a ruthless clan chieftain locked in a bloody feud with a rival clan.
As she fights to reconcile her modern identity with her role in the past, her heart is torn in two directions when she crosses paths with Caelen, the dashing son of her clan's mortal enemy. Their electric chemistry is instant, and despite all odds stacked against them, a star-crossed romance blooms between the unlikely lovers.
Legend foretells that only Yvaine can bring peace to the warring clans. But destiny and doubt clash when history seems fated to repeat its violent mistakes.
With the help of a mysterious seer, Yvaine embarks on a thrilling quest through mythical realms, wrestling between loyalty to family and her smoldering desire for Caelen.
Will she surrender to fate and fulfill the prophecy? Or will she defy the legends to carve her own destiny?
Bursting with searing passion, adventure across time, and gripping star-crossed romance, Yvaine's pulse-pounding journey will captivate fans of Outlander, mystical quests, and electric loves powerful enough to turn enemies into soulmates.
This book is book two in the Lass of Legend series. Readers enjoy reading it in order. Start with book 1, Like the Break of Dawn!
View full details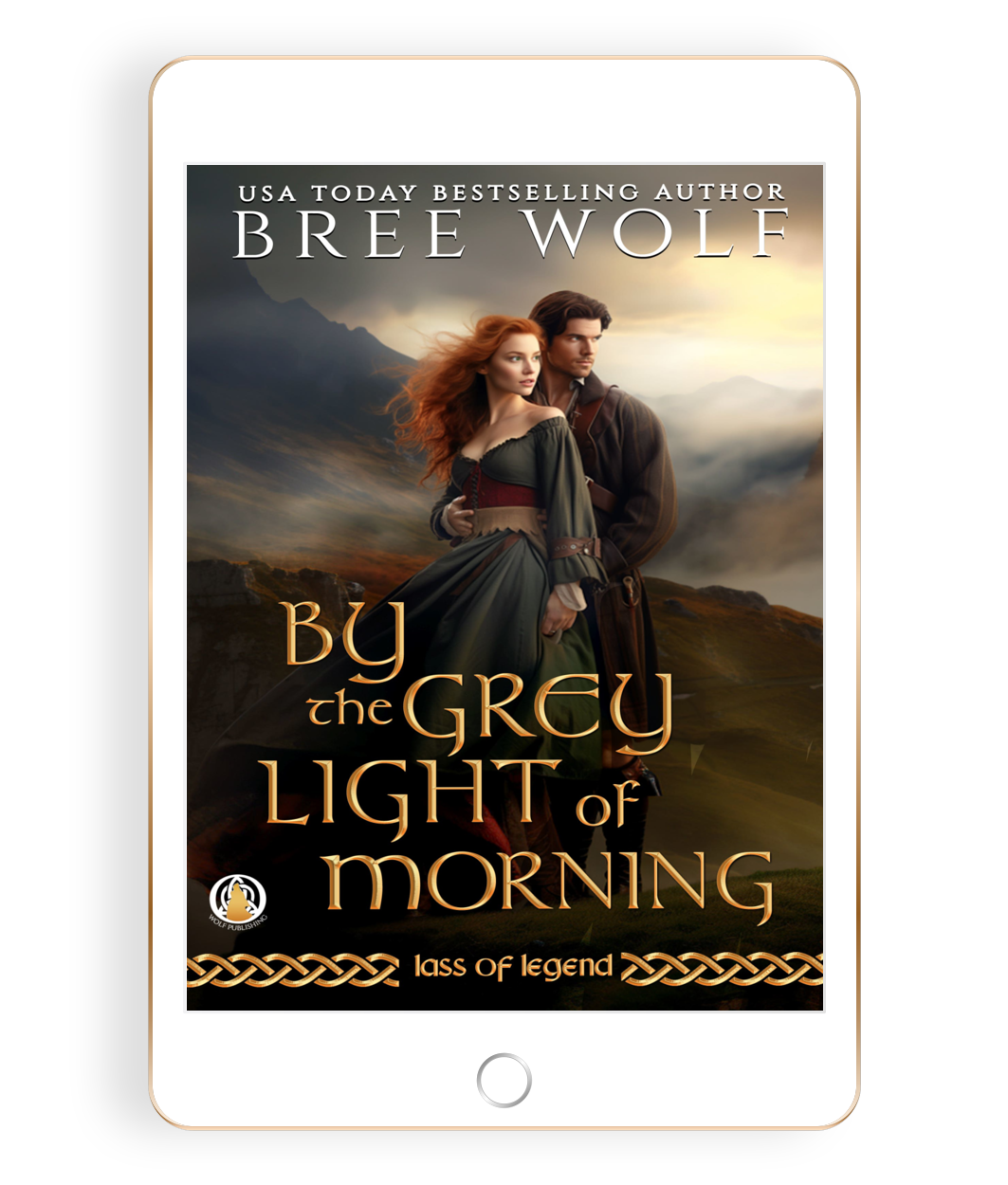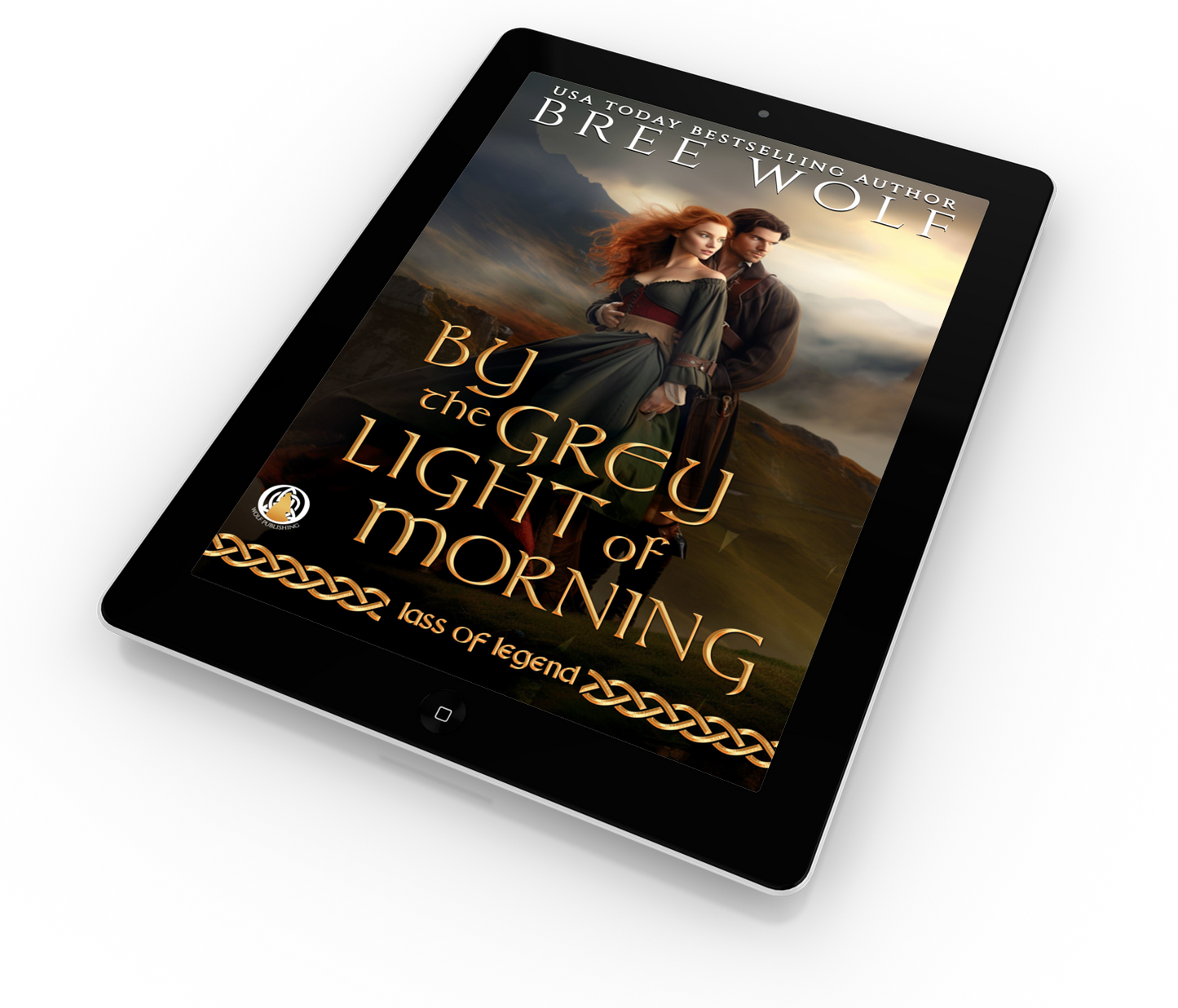 Series Overview
Regular price

Sale price

$7.99 USD

Unit price

per

Regular price

$7.99 USD

Sale price

$5.99 USD

Unit price

per

Regular price

$7.99 USD

Sale price

$5.99 USD

Unit price

per
Lass of Legend - The Trailer
"A big thanks to my fairy godmother!"
Currently, Bree has found her new home in the historical romance genre, writing Regency novels and novellas. Enjoying the mix of fact and fiction, she occasionally feels like a puppet master, forcing her characters into ever-new situations that will put their strength, their beliefs, their love to the test, hoping that in the end they will triumph and get the happily-ever-after we are all looking for.
If you're an avid reader, sign up for Bree's newsletter at www.breewolf.com as she has the tendency to simply give books away. As a welcome gift, you also receive a book for FREE. Find out about freebies, giveaways as well as occasional advance reader copies and read before the book is even on the shelves!
So so good!
I was extremely fortunate to receive an ARC of By The Grey Light Of Morning, written by the amazing Bree Wolf. All thoughts and opinions are my own. This is the second part of Yvaine's journey through time to meet her beloved and forge new alliances. Truths are revealed, and we take a deep dive into the importance of living, loving and losing. I can't begin to explain the roller-coaster ride Yvaine and Caelen take us on as they try and make peace between their feuding clans. This is a great continuation to the legendary love story cherished and repeated by clans of all times. I can't wait to finish the trilogy.
Entertaining read
This is the second book in the series, continuing the time travel of Yvaine back to the time of her ancestors' feud that her grandmother told how the feud ended between the two clans.
She struggles with wanting to return home and fulfilling the destiny with Calaen to insure her future.
This is a wonderful read. I can't wait for the next one in the series.
The Story Will Continue in Part 3
I was desperate to continue Yvaine's story which started in Like the Break of Dawn. This book is just as compelling as the first, with Yvaine struggling to believe that her destiny and purpose are tied to a feud many centuries in the past. Torn between two worlds her heart is at war. Desperate to return home but rapidly falling in love with the hero of the legends her grandmother used to read to the Clan on dark winter evenings.
Note this book could be read without reading the first as there is enough information in the first chapter but readers will gain more enjoyment if they read the books in sequence.
I voluntarily read and reviewed an advanced copy of this book from the author. All thoughts and opinions are my own.
A great story!!
This book continued to explain the legend that Yvaine's grandmother told to her family. Yvaine has a lot to think about and decide if she wants to continue on her present path or run back home to her future family. Caelen continues to stand by her side. It is action packed at the end. There are a few twists in the story that I didn't think would happen but kept you hooked to the end. I look forward to reading the next book to see how the future turns out.
The Legend blooms
This is book #2 of the series and very well written. The characters are well developed and you can feel the emotions float off the page. I did think this book dragged a bit in the middle with the back and forth of will she/won't she. But the action picked up nicely and I was enthralled with the ending , even with the cliffhanger leaving more questions than answers. I love these characters and feel for Yvaine as she is pulled in different directions. My thought kept
coming back to…if she goes back "home" will it be there, since she and Caelen weren't together to form a family? Interested conundrum!
I received this book for free and these are my own opinions.