Regular price
Sale price
$7.99 USD
Unit price
per
Sale
Sold out
In this magical time-travel romance by USA Today bestselling author Bree Wolf, a fiery lass is sent centuries into the past where her defiant spirit clashes with her destiny, igniting a forbidden passion that could finally mend the bloody feud dividing medieval Scotland.
Scotland 1801: Yvaine MacKinnear's world is turned upside down when she is transported back in time to medieval Scotland and into the middle of a decades-long feud between the rival MacLeòir and MacCarmaig clans.
Thrust into an unfamiliar world where she's now the long-lost daughter of the cold and ruthless MacLeòir chieftain, Yvaine must fight to reconcile her identity, resist her father's attempts to marry her off for political gain, and find a way back to the idyllic island home - and family - she left behind.
When she encounters Caelen, the handsome son of the MacCarmaig chieftain, forbidden feelings ignite between them despite the long and bloody history dividing their clans. As danger and betrayals threaten them from all sides, Yvaine and Caelen find themselves willing to sacrifice everything for love and peace. But can their budding romance withstand the swirling storms of war, or will fate tear their star-crossed relationship apart?
Immerse yourself in this gripping historical fantasy romance set in mystical medieval Scotland. As an exhilarating adventure of clashing swords, simmering romance, and tests of loyalty and sacrifice unfolds, Yvaine must fight for love and freedom while unraveling the mystery of whether she and Caelen are truly destined soulmates like the legends foretold.
Defying all expectations for the role of a lady in her time, Yvaine emerges as a strong-willed heroine whose choices will define the future of her people. Will she fulfill her preordained fate to bring peace to the clans? Or will the course of history be forever altered?
View full details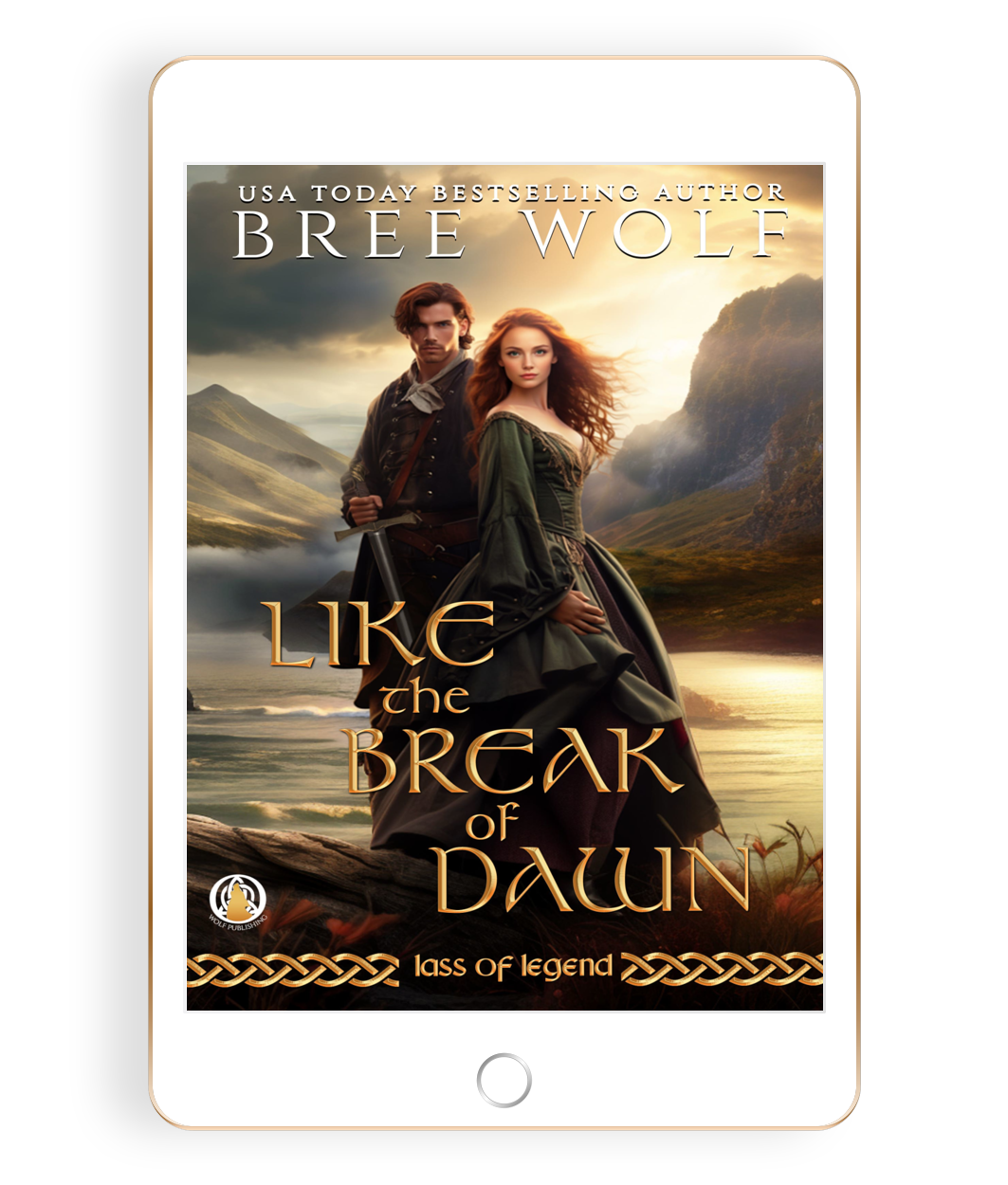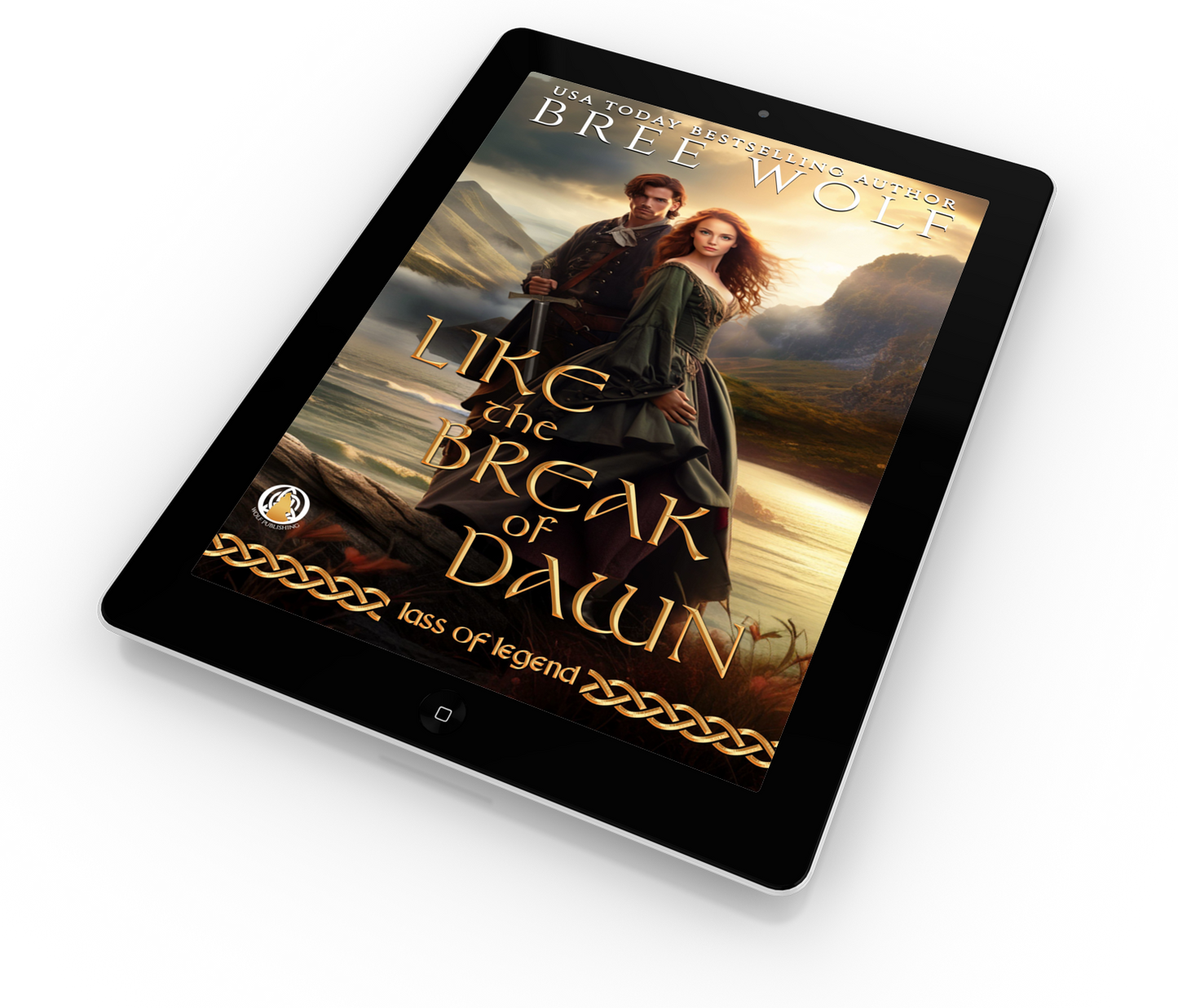 Series Overview
Regular price

Sale price

$7.99 USD

Unit price

per

Regular price

$7.99 USD

Sale price

$5.99 USD

Unit price

per

Regular price

$7.99 USD

Sale price

$5.99 USD

Unit price

per
Lass of Legend - The Trailer
"A big thanks to my fairy godmother!"
Currently, Bree has found her new home in the historical romance genre, writing Regency novels and novellas. Enjoying the mix of fact and fiction, she occasionally feels like a puppet master, forcing her characters into ever-new situations that will put their strength, their beliefs, their love to the test, hoping that in the end they will triumph and get the happily-ever-after we are all looking for.
If you're an avid reader, sign up for Bree's newsletter at www.breewolf.com as she has the tendency to simply give books away. As a welcome gift, you also receive a book for FREE. Find out about freebies, giveaways as well as occasional advance reader copies and read before the book is even on the shelves!
Bree has outdone herself!
I received this book as an ARC. It is wonderful. We get to know what happened to Yvaine, why and how she disappeared. She travelled to the past, where she is originally from!
The story is well written, it is very difficult to pause in the reading. Well described characters and feelings. The emotions between the couple are believable and touching. I need book 2!
I recommend reading it; sweet romance in a historical setting with lots of adventure.
Wonderful Start to Yvaine's Story
Yvaine was found wandering alone when she was three. The MacKinnear clan has raised and loved her. Now suddenly she has disappeared. Where has she gone? Will the MacKinnears ever see her again? This is where Yvaine's odd adventure begins. She recognized the place, has heard stories about it and the trouble between the MacLeoir and MacCarmaig clans. She meets Caelen MacCarmaig, a name familiar from the stories.
She finds herself in the middle of the feud and discovers that she is a pawn in her father's plans. Is this real, or is she dreaming? What do you do if you suddenly find yourself in the midst of a legend? The first story in this new series tells where Yvaine comes from and clues as to why. The story is full of action, schemes, mystery, and betrayal. With all this going on, Yvaine and Caelen fall in love. It causes a lot of trouble, but love doesn't always come easy. The characters are very well done. There's no doubt who the good and the bad guys are. This is an interesting beginning to Yvaine's story. What's next?
I voluntarily reviewed an ARC of this book.
Historical Fantasy Romance
When Yvaine went exploring, she had no idea her adventure would lead her so far astray. One moment, she was in the 19th century, and the next, she was on an island in ruins, centuries in the past. She had a family, and now, she would be used as a pawn to cement an alliance. Could she escape her fate? Could she be that Yvaine of legend she had heard about in the future? Was she the one that fell in love with the enemy and united the clans? Even though she knew she should not, she found herself trusting Caelen even though he was her enemy.
Yvaine's road will be long and filled with danger. When she meets Caelen, she is drawn to him. Will she fulfill the legend? Her father wants her to marry someone that will give him an advantage over his enemy. This is a complex story, full of adventure and intrigue. Yvaine's journey will not end at the finish of this story. You will be on tenterhooks, waiting for the next book. I enjoyed this time travel romantic adventure. Although I do not like cliffhangers, I cannot give this book less than five stars. It is quite excellent.
Brilliant Storyline!
Brilliant storyline with a few twists and turns. Yvaine and Caelen are wonderful characters who invite the reader on an interesting journey. This book grabbed my interest from the very first page and wouldn't let go. I look forward to the next book to find out what happens following the cliffhanger ending of this one. Take a chance and read this book.
I received a free copy of this book and am voluntarily leaving an honest review.
There is a lot of family drama
4 Stars
I received a free copy of the clean historical romance Like the Break of Dawn: Lass of Legend Trilogy by Bree Wolf and this review was given freely.
Most of this series occurs prior to the Flames of Winter Series.
There is a lot of family drama where an emphasis on a Feudal- fear-power-based male-run system where loyalty, war, and power through arranged marriages are prevalent.
It was interesting but long and ended in a cliffhanger. I was happy to have the Fey connection to Yvaine's appearances and disappearances explained as well as witness the unconventional meeting between Yvaine and Caelen. The contrast between her parents was sad but the similarities between her brothers in both time frames were heartwarming.