Regular price
$7.99 USD
Sale price
$5.99 USD
Unit price
per
Sale
Sold out
COMING ON JANUARY 5, 2024
Get your pre-order discount of $5.99 now!
In this magical time-travel romance from USA Today bestselling author Bree Wolf, 18th century Yvaine finds herself transported back to medieval Scotland, where she is swept into an ancient legend, an all-consuming forbidden love, and a centuries-old feud threatening everyone she holds dear.
Growing up on a misty Scottish island, Yvaine found herself enchanted by tales of her fiery-haired ancestor, a medieval Highland lass who mysteriously appeared during a time of war between rival clans. However, when Yvaine falls through a portal in a seaside cavern, she discovers the legends are true – she and the Yvaine of centuries past are one and the same.
Thrust into the middle of a bitter rivalry between the warring MacLeòir and MacCarmaig clans, Yvaine must fight to reconcile her modern identity with her role in the ancient prophecy. When she locks eyes with Caelen, the dashing son of the enemy MacCarmaig chieftain, forbidden feelings ignite between them that blaze hotter than dragonfire.
As danger and betrayals threaten them from all sides, Yvaine and Caelen find themselves willing to sacrifice everything for the sake of love and bringing lasting peace to their clans. But will their forbidden romance survive the clash of centuries?
Torn between the world she knows and her growing love for Caelen, Yvaine must unravel the mysteries of the past and break the cycle of hatred to take control of her fate. Will she choose to stay with Caelen and unite their warring clans, or will she find a way back to her own time?
Full of fantasy, adventure, and romance, In the Coming of Tomorrow is a swoon-worthy time-travel love story. With vivid historical details and heart-pounding action, it's a timeless tale of hope triumphing over hatred, fate vs. free will, and love's ability to mend bridges across the uncrossable chasms of time.
This book is book three in the Lass of Legend series. Readers enjoy reading it in order. Start with book 1, Like the Break of Dawn!
View full details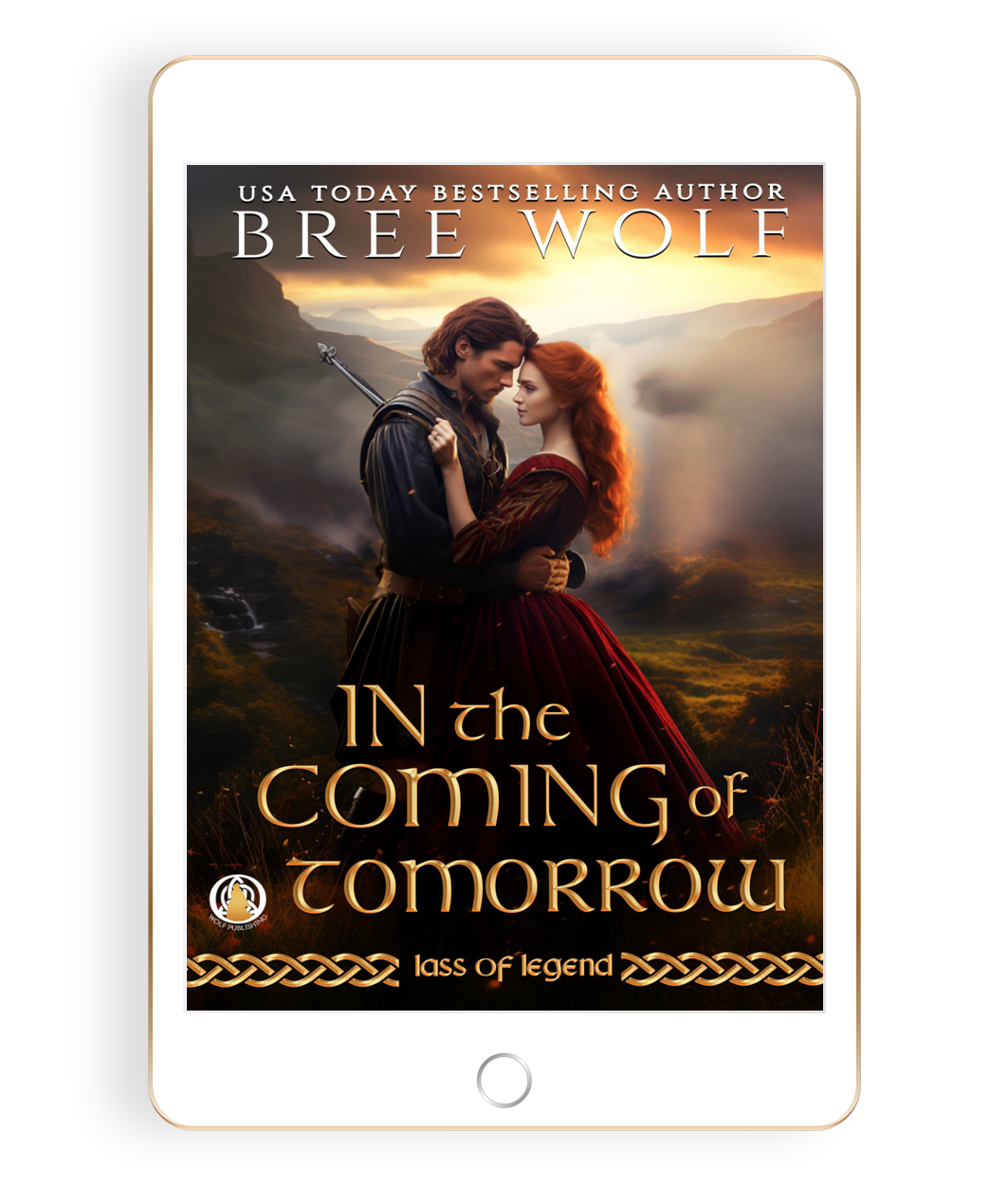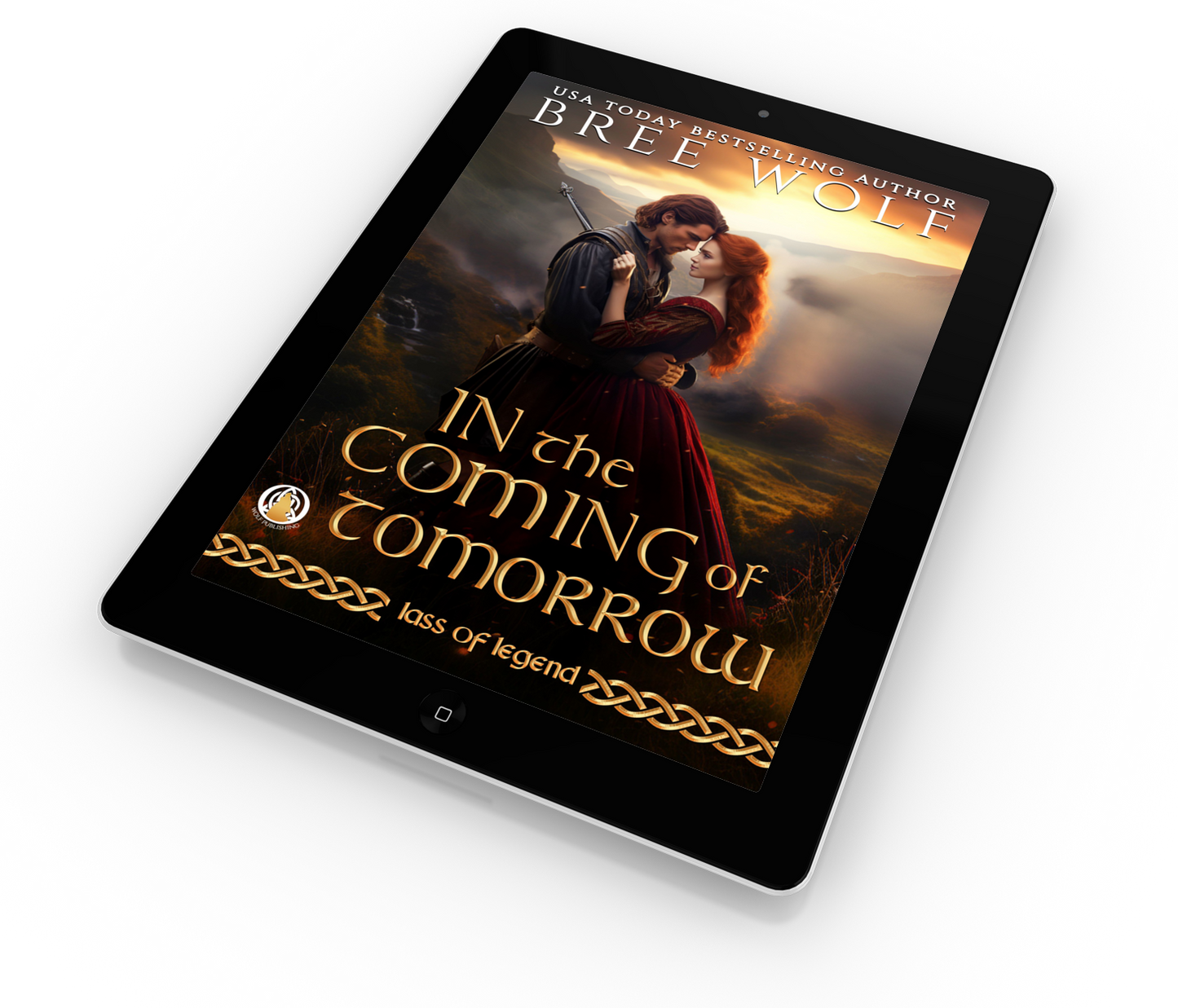 Series Overview
Regular price

Sale price

$7.99 USD

Unit price

per

Regular price

$7.99 USD

Sale price

$5.99 USD

Unit price

per

Regular price

$7.99 USD

Sale price

$5.99 USD

Unit price

per
Lass of Legend - The Trailer
"A big thanks to my fairy godmother!"
Currently, Bree has found her new home in the historical romance genre, writing Regency novels and novellas. Enjoying the mix of fact and fiction, she occasionally feels like a puppet master, forcing her characters into ever-new situations that will put their strength, their beliefs, their love to the test, hoping that in the end they will triumph and get the happily-ever-after we are all looking for.
If you're an avid reader, sign up for Bree's newsletter at www.breewolf.com as she has the tendency to simply give books away. As a welcome gift, you also receive a book for FREE. Find out about freebies, giveaways as well as occasional advance reader copies and read before the book is even on the shelves!
Epic conclusion!
I was extremely fortunate to receive an ARC of In The Coming of Tomorrow, written by the amazing Bree Wolf. All thoughts and opinions are my own. This is the finale of Yvaine's journey through time, and I was not disappointed by the beautifully written story. Yvaine's conundrum is whether to stay in the past or return to the future where her loving family resides. She has to choose between fulfilling her destiny and the legend of Yvaine and Caelen in the past or hoping that things work out regardless and return to her parents and brothers where she believes she belongs. I got tingles and shivers up my spine as the story progressed. The actions, the reactions, and the emotions are phenomenal. Trust and faith are both tested,over and over again.... a remarkable story and I can only hope there is more to xome from the MacKinnear family.
Fabulous series!
This is such a wonderful entertaining series. I suggest you read the books in order for the most enjoyment.
This book was such an entertaining read, and a wonderful satisfying end to the series. There were a lot of unexpected events that happened, and the love between Yvaine and Caelen was heartwarming.
Concluding Story
Yvaine and Caelen are fulfilling the legends of old but they know that persons they care for are likely to be hurt or even die, but all they can do is follow their hearts and try and persuade as many of their clan as possible to choose peace over war. Note: readers need to have read the previous two books in this series. I didn't find this as compelling as the previous two stories but it was a fitting conclusion to the series.
I voluntarily read and reviewed an advanced copy of this book from the author. All thoughts and opinions are my own.
An Epic Ending to a wonderful story
This Book, #3 of the series is a good ending to the series. Yvaine and Caelen find peace as well as fighting, love as well as hate, joy even in the painful times. Some of the story dragged a bit, but I believe the author was trying to portray a peaceful time in their lives. The climax was not unexpected, but a wonderful read, none the less. I can almost see more stories coming, perhaps for Lachlan and Malcom's and Catriona? And the epilogue was fantastic as it ended with the very people who started this whole storyline…..adorable!
A Masterpiece!
In this 3rd story of the trilogy we have a rather satisfying ending with family and friends coming together to save the day.
I was particularly struck by the way Yvaine and Caelen's outlook in life changed as they became the responsible and caring characters whom I have come to love and respect.
This is a fitting finale to this part of fictional history and it has certainly been worth reading.
I read an ARC (Advance Reader Copy) and my voluntary review is above.