Regular price
Sale price
$7.99 USD
Unit price
per
Sale
Sold out
When Lucinda North agrees to impersonate a missing princess, she finds herself living at Buckingham Palace, evading a killer — and falling in love with Anthony, Earl of Melfield! An exciting Regency romance by USA Today bestselling author Meredith Bond!

"This isn't her Royal Highness," the headmistress told the man and the woman who were staring at Lucinda with their mouths hanging open.
"But it could be."

These words turn the life of Lucinda North upside down. Within hours, she agrees—against her better judgement—to impersonate the missing Princess Louisa of Aachen-Düren. Within a week, she meets the queen and the handsome, charming Lord Melfield. Within the month, she is living at Buckingham Palace, lying about her true identity not only to Queen Charlotte but to all of Regency society, while someone is trying to kill her. Within her lifetime, she will never regret a moment of it.
Anthony, Earl of Melfield would rather not waste his time helping a spoiled princess learn how to conduct herself. He would certainly rather not return to society after a heartbreak. And he most definitely would rather not have feelings for the princess, no matter how sweet, funny, and beautiful she is. Most of all, he would much rather not use all of his skills to save her life and figure out who wants her dead.

In this first book of this sweet, and adventurous Royals & Rebels series by Meredith Bond you'll find hidden identities, a princess on the run, and three lives at stake… despite this, these royals and rebels must learn to trust and open themselves to a lifetime of love.

All three books in the Royals & Rebels series are interconnected and should be read in the correct order for full enjoyment.

The Royals & Rebels Series
#1 In Lieu of a Princess
#2 Princess on the Run
#3 A Prince Among Spies

Prequel: Christmas Intrigue
View full details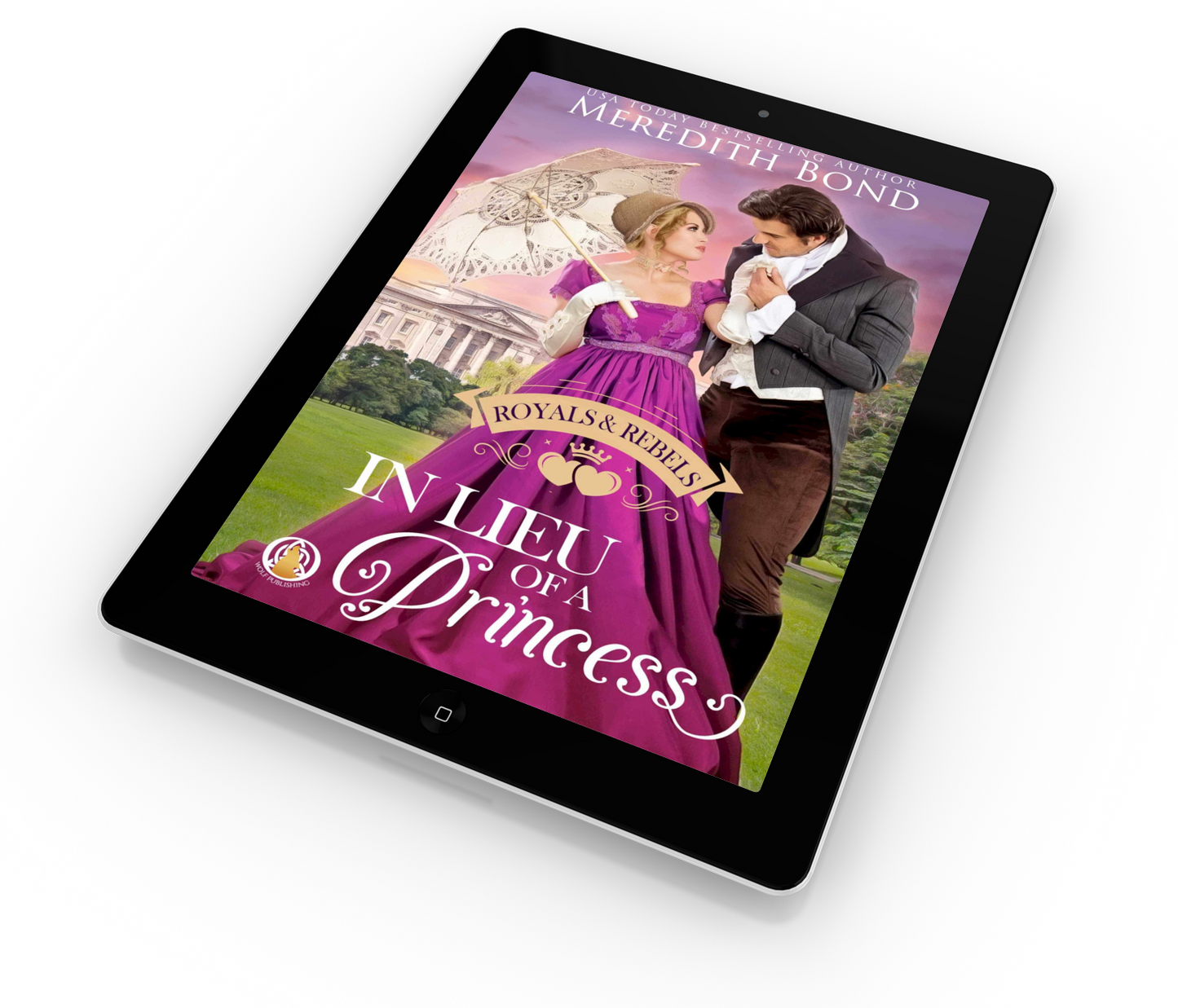 USA Today bestselling author Meredith Bond's books straddle that beautiful line between historical romance and fantasy. An award-winning author, she writes sweet, fun, traditional Regency romances, medieval Arthurian romances, and Regency romances with a touch of magic. Known for her characters "who slip readily into one's heart," Meredith loves to take her readers on a journey they won't soon forget.  
I want more!
Apart from the fact that this story ends with a cliffhanger (I hate cliffhangers!), I loved it!
Fascinating storyline. You keep wondering how long it will take before someone discovers the truth. You keep wondering what has happened to the real princess.
I hope these characters (Sophia, Lou, Anthony and their friends) will come back in the next stories. I like them. And, if not, I hope they will get their own books. They deserve it! Especially Sophia and lord Talford, maybe a HEA with each other?
Luckily, the second story in this series is waiting for me, so it is time to find out!
I received a copy and chose to review it.
A remarkable adventure
A remarkable adventure! A poor, diplomats daughter mistaken for a princess. What ensues is a whirlwind adventure of impersonation to protect the crown, the chance at love and a chance to carve out a future for herself and her sister. Lucinda North is a remarkably strong woman. She has had to dig deep to find the strength to create a future for her and Sophia after their parents death. The strength of her character is written so ingrained it shines through her princess act. Despite knowing the princess as a spoiled girl who is known to shrug responsibility and demand what she wants, Lou can't help but be herself in that act as she takes to the demands of responsibility. The slow burn of her and Anthony, Lord Melfield is sweet and tense. The mysteries surrounding the crown of Aachen-Duren hold the interest as you can't help but ask a million questions. I am grateful that the 3 stories in this series are due to come out in quick succession, or the words "cliffhanger" might have been harder to swallow. I cannot wait to see what happens next and am eager to get to know the real Princess Louisa. This story includes the sweet bloom of love, the intrigue of royal family and the mystery of who really is behind the attempts on the crown. Well-written and a delightful read.
Cliffhanger
Lucinda North's life turns into a fairytale when she is asked to impersonate a missing princess. She takes the job to help support her family after the unexpected death of her diplomatic father and mother. She is moved to the palace and starts lessons on how to be a princess. Anthony, the Earl of Melfield is asked to introduce Lucinda at society functions. Having had his heart broken and not wishing to return to society, he grudgingly accepts. The Princess is not at all what he expected and he finds he is truly enjoying her company.
This book does have a cliffhanger that I didn't know about when I was given an advanced copy. I rarely read them but now I will have to finish the series because I absolutely must know what is going to happen to these wonderful characters.
I received an ARC of this book and am giving my honest opinion.
Unusual theme!
The task undertaken by Lue (Lucinda) is quite mind-boggling, but she perseveres, learning new skills in the hope that she will be successful.
This character shows great strength and determinism and as the story progresses, she finds her true love.
I loved her character for all the above reasons and the story too.
It was a good starter book for the series and I look forward to the next one.
I read an Advance Reader Copy (ARC) of this book and my voluntary and unbiased review is recorded above.