Lady Marigold's Matchmaking Service
Regular price
$7.99 USD
Sale price
$5.99 USD
Unit price
per
Sale
Sold out
COMING ON DECEMBER 14, 2023
Get your pre-order discount of $5.99 now!
Embark on a thrilling journey through the winding streets of London, where scandalous secrets and stolen hearts collide!
Meet Miss Catharina Sagewick, a spirited beauty with a penchant for adventure, whose life takes an unexpected turn when her father's plans for a convenient marriage unravel in a single moment. Branded as a thief and shunned by society, she finds herself in the clutches of Lady Marigold's Matchmaking Service, where fate introduces her to a man beyond handsome – Gideon, Lord Hainsley.
Gideon, on a quest for a wife of unblemished reputation, finds himself entangled in a web of intrigue when his attempt to reclaim a mysterious painting tarnishes his own name. All seems lost until he encounters Catharina, a woman as daring as she is beautiful, and with a reputation that matches his own. Recognizing her unique skills, he enlists her help, igniting a dangerous dance between two souls playing with fire.
Join this dynamic duo as they crisscross the cobblestone streets of London, chasing clues and unraveling the threads of a hidden treasure. In the midst of their daring escapades, sparks fly and new emotions blossom. Will they succeed in finding the elusive prize that holds the key to Gideon's ancestral fortune? Or will the real challenge be navigating the labyrinth of their own hearts and discovering a love as precious as the treasure they seek?
Prepare for an exhilarating tale of passion, danger, and the irresistible allure of love in The Earl's Lady Thief, book 1 this sweet Regency romance series by USA Today Bestselling author Jennifer Monroe.
View full details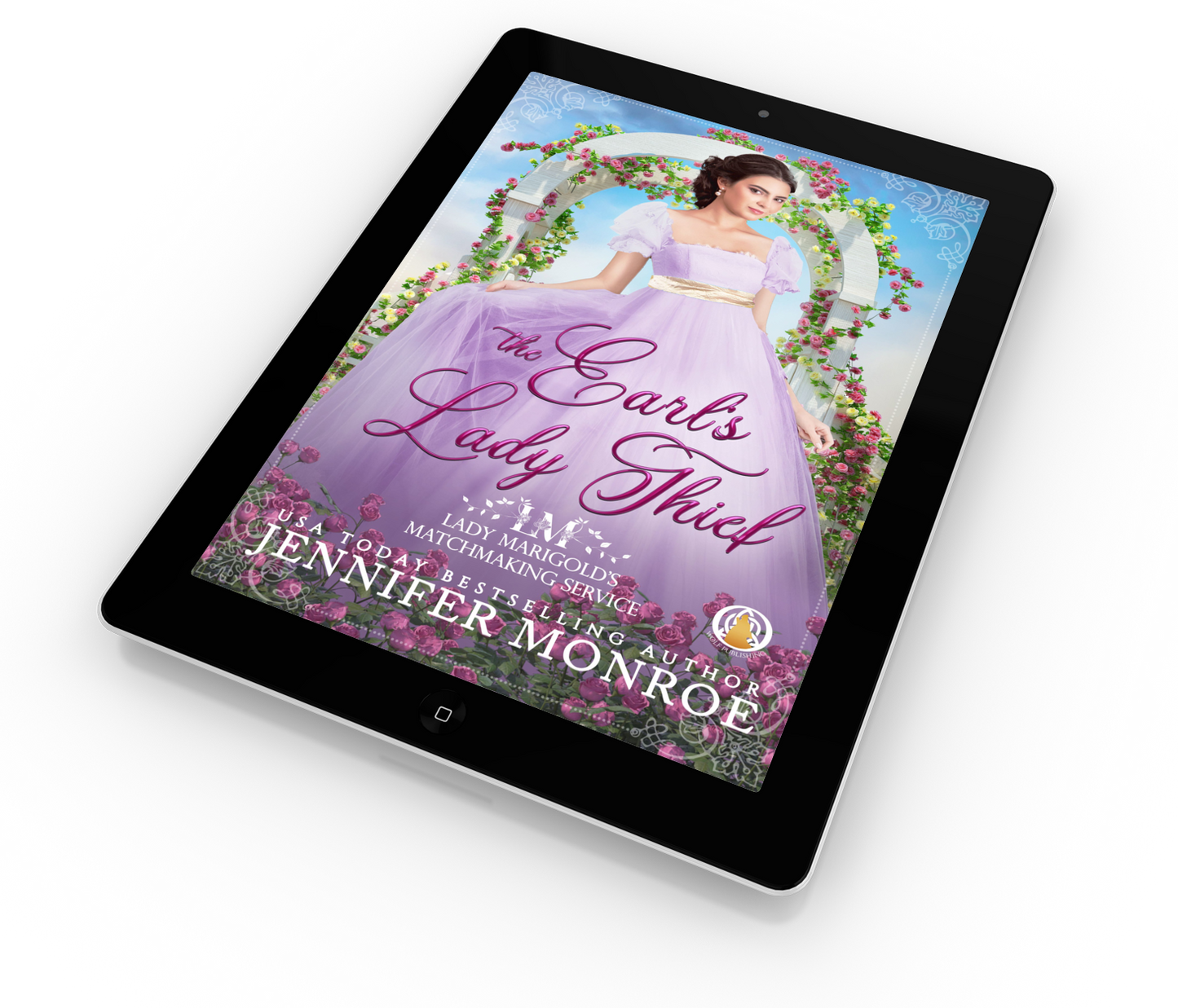 Series Overview
Regular price

$7.99 USD

Sale price

$5.99 USD

Unit price

per

Regular price

$7.99 USD

Sale price

$5.99 USD

Unit price

per

Regular price

$7.99 USD

Sale price

$5.99 USD

Unit price

per
USA Today bestselling author Jennifer Monroe writes Regency romances you can't resist. Her stories are filled with first loves and second chances, dashing dukes, and strong heroines. Each turn of the page promises an adventure in love and many late nights of reading.
With over twenty books published, her nine-part series, The Secrets of Scarlett Hall, which tells the stories of the Lambert Children, remain a favorite with her readers.
Great new series starter!
I love this new beginning of a series! Catharina and Gideon's story is delightful. I love the banter between these characters. The suspense is wonderful and kept me wanting to read well into the night. I am excited for Olivia's story in the next book in the series.
Never underestimate a woman's intuition!
This book reminded me of a movie about searching for the Knights Templar treasure, but it was so different and I loved working through the clues with the characters! The banter between Catharina and Gideon was playful and witty, though there were times I thought both of them were a bit full of themselves, only to discover they were bantering. The villain gets his due and I especially loved the scene where he gets highly embarrassed! Would have loved to have been in the room when the villain's helpers realize they would be dumped as well. All in all a good book though it did seem to drag in some places. Loved the "thief " theme as well.
Very entertaining read.
This is one of the most entertaining books I have read!
Catharina Sagewick wants to find a husband who loves adventure, but her father arranges a marriage for her. At a ball at her betrothed's home, she takes his mother's pearls to get out of the marriage. Now ruined, her father arranges for her to go with Lady Marigold, who owns a matchmaking service to find a husband for Catharina.
At a party with Lady Marigold, she meets Gideon, The Earl of Hainsley, who has retrieved a painting his father told him led to great riches.
This is such a fun, highly enjoyable read with laugh out loud antics as they search for the clues.
The chemistry between the two was interesting.
There were also many interesting secondary characters.
I gave it 5-stars!